This article provides teams charged with rolling out mxHERO within an organization with suggestions and useful resources that can be used to communicate the benefits and changes forthcoming to end-users.
This guide is divided by mxHERO capabilities most commonly deployed. The content here is provided as a resource to you, please feel free to alter any content you see here to best fit your end-user outreach needs.
Email Attachment Linking
Short description
Replacing email attachments with cloud storage links.
Sample text
Dear user, over the next several days we will be deploying mxHERO. mxHERO is a technology that connects our cloud storage platform with our email system. After the rollout, email attachments you send will automatically be uploaded to your cloud storage account and replaced with a link. This process is completely automatic and will require no effort on your part. Your attachments will be uploaded, filed, and secured without your intervention. We hope you enjoy the service below are some additional benefits, expected changes, and a video demonstration.
Benefits
Automatically store, in a structured way, email attachments in your cloud storage.
Keep all file exchanges in an email thread in a single cloud storage folder.
Automatic security applied to all email attachments.
Ability to revoke access to an attachment even after it has been delivered. Note: user will need to do this before the recipient downloads (which will be noted in their cloud storage).
Ability to update an attachment even after it has been delivered. Note: user will need to do this before the recipient downloads (which will be noted in their cloud storage).
For non-Gmail based email organizations (e.g. MS Exchange, O365, etc), the ability to send 100Mb emails.
Expected Changes
No changes to how attachments are sent.
No need to download or install software.
Works the same from every device (laptop, mobile, etc.)
Recipients will receive a link to the attachments, not the attachments themselves.
Assets
Using Email Saved in your Cloud by mxHERO
Short description
How to work with emails saved and enhanced by mxHERO in cloud storage.
Sample Text
mxHERO optimizes your email when it is stored into cloud storage. Below are some important tips & techniques on how you can manage take advantage of the many enhancements:
Auto-converting email message into a PDF Document
In configurations where the body of email is preserved, not just the attachments, mxHERO can save the message as a PDF. The PDF keeps all the graphic and formatting elements of the original message. Furthermore, at the PDF links includes secure links to any attachments (saved separately).
Emails are auto-filed
When saving emails, your messages will be autofiled following a predefined folder organization that is configured centrally, by your mxHERO administrator. A default filing strategy is to same email content in a folder in your cloud storage called "Emails" or "Attachments" (if saving only attachments). Below this top-level folder is a subfolder named with the email address of everyone with whom you communicate. Inside the per person folder is a folder using the subject of the email. Inside that folder is the total of all files exchanged over that email thread. No more searching through emails looking for attachments, they will all be in this single folder.
Example auto-filing hierarchy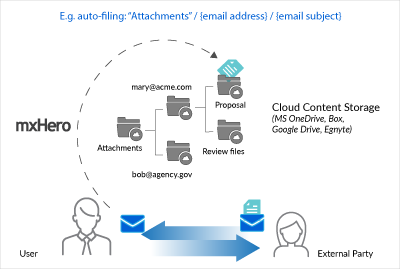 Working with mxHERO uploaded emails in your cloud storage
Searching for Email
You can use your cloud storage's native search tools to find emails saved by mxHERO. Your search bar will provide text match search of message and attachment content.
If you use Box or Egnyte storage, you benefit from powerful meta-data driven search. With meta-data search, you can search for emails based on the date of the email, sender, recipient, etc.
Video demo: searching emails saved by mxHERO in Box
Video demo: searching emails saved by mxHERO in Egnyte
Actioning (responding/forwarding, etc.) to emails saved in your cloud
mxHERO can be configured by your IT administrator to save the original email message in .eml or .msg format. You can use these files to open the original email message in your local email client (e.g. Outlook) and forward or reply to them.
Video demo: opening an email for reply directly from your cloud storage
Using your cloud storage collaboration tools
All the power and convenience of your cloud storage service are leveraged by email content saved by mxHERO. For example, most storage services allow you to share, comment, and markup documents - you can do the same with your email content. So instead of having to forward an email to a colleague (an inherently unsecure action), you can share the email through your cloud storage platform.
Denying access to attachments even after your email is delivered
If you inadvertently send a file to the wrong person, you can simply go to your cloud storage service, find the email folder and delete the file that was uploaded. Your recipient never actually received the file (as in standard email), rather a link to the file that you control from your cloud storage account. Note, you would have to do this before they access the file, but typically recipients do not access email attachments immediately upon reception.