To install MxHero for Outlook 2.0 follow one of the options below. Note, your installation options will depend on your user credentials.
Prerequisites
To use this plugin you will need a modern version of Outlook for one of the supported platforms (Windows, Mac or Web) or an up to date web browser if using Outlook Web Access.
Outlook for Windows 2013 or better
Outlook for Mac 2016 or better
Outlook Web Access (OWA)

MS Edge
IE 11 or better
Chrome

Email hosted by O365 or an Exchange server
A cloud storage account. Currently, supported services are:
According to Microsoft, it may take up to several hours after the installation process for the add-in to appear in your Outlook.
Installation from the Microsoft AppSource Store
For manual installation (not using the Microsoft AppSource Store) see below.
Requirements
You'll need to have an active Microsoft Outlook or Live account to use the Outlook add-in. If you do not see the 'Manage Add-Ins' or 'Manage Apps' option (for Outlook 2013, Outlook 2016, and Outlook.com) or the 'Store' (Outlook For Mac), check with your admin to grant you access.
You will need your login credentials for Outlook to install the add-in.
What if I don't see the options to Manage Add-ins or the Microsoft Store?
The Outlook Add-in is built for Outlook 2013, Outlook 2016, Outlook.com, and Office 365 with an email that is hosted on a Microsoft Exchange server. If you don't see the options described below, here are some things to check:


Admin has restricted add-in access: Check with your email administrator to see if they have restricted users' settings to prohibit loading an add-in. This is a fairly common situation and your email administrator can provide you with access to add-ins for the mxHero for Outlook Add-In.


Outlook/Exchange server prohibits add-ins: If you're using Outlook 2010 exchange server, you will be unable to use the add-in. Also, some Exchange server setups prohibit add-ins. Check with your email administrator for more details.


Using Outlook email client, but not Microsoft Exchange: Outlook is an email client, not an email provider. Your email must be hosted on a Microsoft Exchange server in order to enable the Outlook integration with mxHero. If you're not sure what you're using, check with your email administrator, they'll be able to help you out!

If you've checked with your email administrator and you don't think one of these three issues applies to you, contact support@mxhero.com and we can work with you to troubleshoot.
AppStore Add-in installation for different versions of Outlook


mxHero for Outlook Microsoft AppSource listing (link)
Outlook 2013, 2016 for Windows
Open Outlook 2013 or 2016


Look for the Get Add-ins icon on your Home ribbon bar. If found, select it and jump to step 7.




Open the File menu and scroll down to the page to find the Manage Add-ins option.




Click on the Manage Add-ins icon to open up a new browser tab. This tab will prompt you to sign-in to your outlook.live.com account. You will need to sign-in to an outlook.live.com account to use the add-in.




Enter in your credentials for your outlook.live.com account and your browser will redirect you to your account's Manage add-ins page.


Click on the + icon and select Add from the Office Store.




Search for mxHero for Outlook and select Get it now for the result that appears. This will start the add-in installation process.


Outlook.com
Login to your Outlook.com account from a web browser


Click on the gear icon near the upper right corner of the browser window. Select Manage add-ins from the menu.




You'll be redirected to a modal where you can search for the mxHero for Outlook add-in. Once you find it, turn on the add-in to install it.


Outlook for Mac
Open Outlook For Mac


From the Home tab, click on the Get Add-ins to open the AppSource Store




In the AppSource Store, search for mxHero for Outlook and install.
Manual Installation (not via AppSource Store)
Configuration URL
For the manual installations described below, the MxHero for Outlook installation URL is:
https://outlook-addin.mxhero.com/manifest.xml
You will need to copy and paste this URL following the instructions below.
Manual Single User Installation
To manually install the plugin you can copy and paste the above url into Outlook's Web Add-in configuration pane. This will add the plugin to your desktop Outlook application as well.
Access your web based Outlook (e.g. Office 365 portal or Exchange OWA)
Click on "Settings" and select "Manage add-ins"
Click on add "+" and select "Add from a URL"
Paste the URL in the URL field (see URL above)
Logout of Outlook and log back in or ...

If using desktop Outlook, close Outlook and open again. Look for the Mail2Cloud plugin in the ribbon bar (see image below)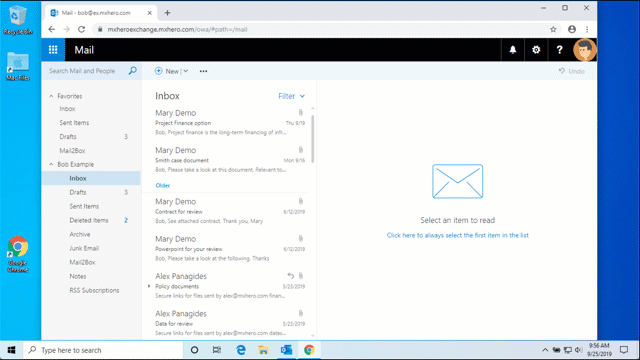 After closing a reopening Outlook, you should see the Mail2Cloud button in the Home ribbon bar: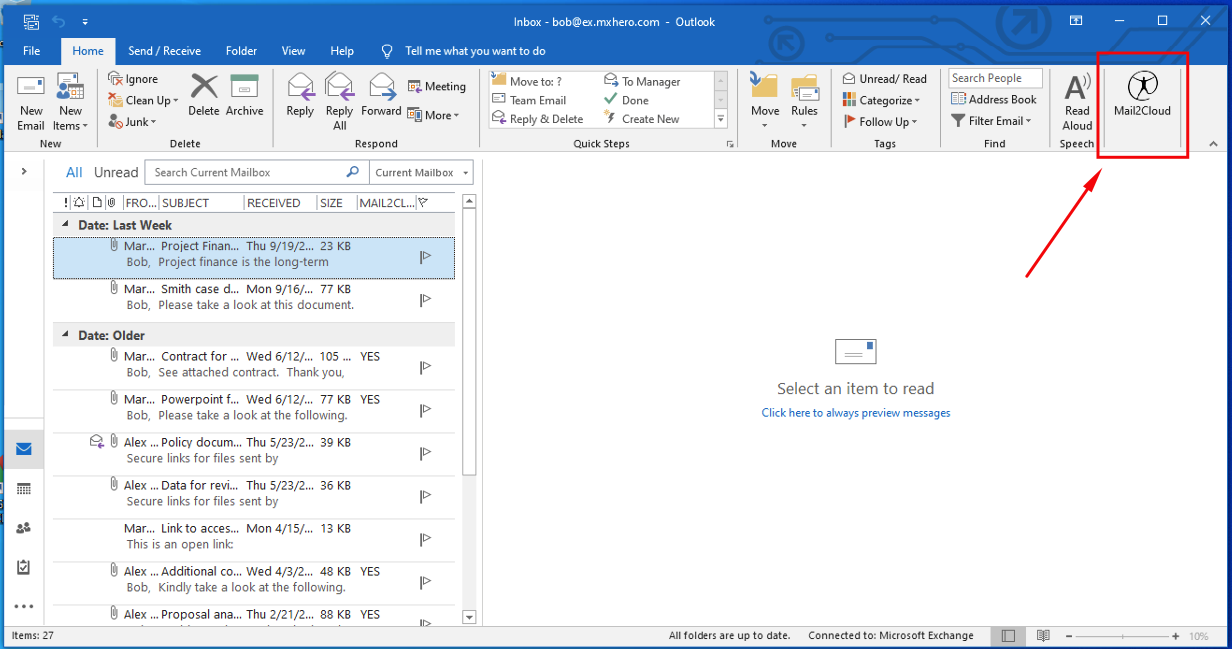 Multi-user Installation
The plugin can be deployed to multiple users via the administrative interface of Exchange or Office365. You will need administrative access to the Exchange or Office365 admin panel and the provided installation URL (see URL above).